Parent Circle & Volunteering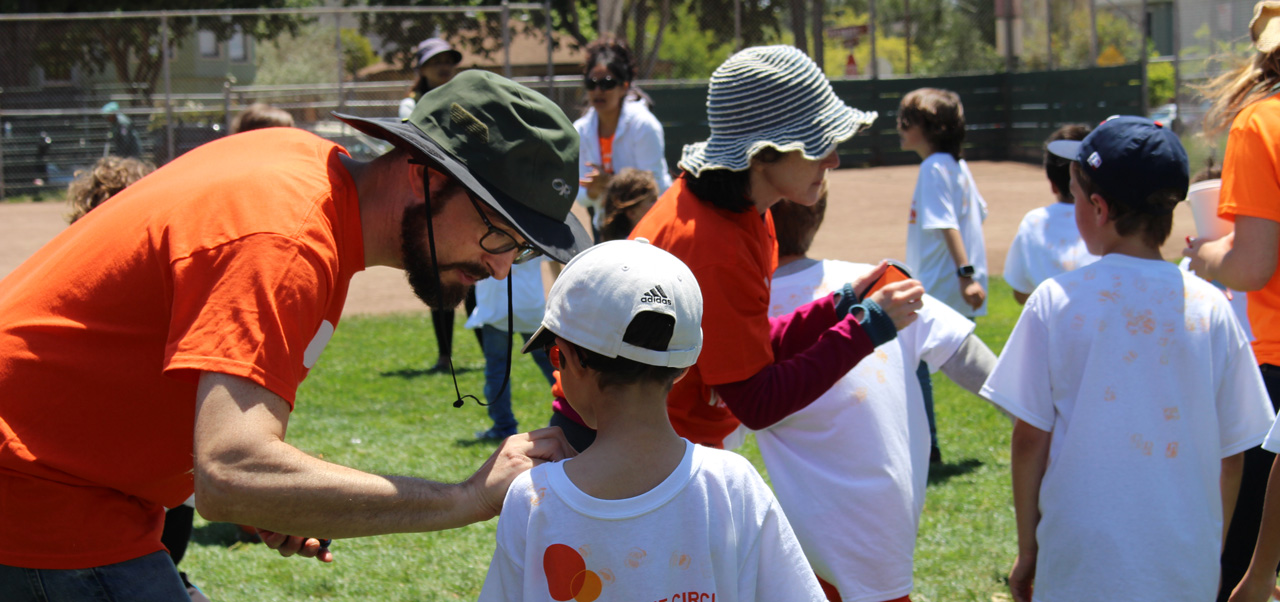 Volunteering nourishes and sustains our community.
Parent Circle (our association of parents and guardians) organizes a variety of volunteer opportunities, from simple tasks to more challenging roles, allowing you to choose what level of engagement works for you.
All families are asked to give modestly of their time to support our school, and participating as a volunteer helps foster a sense of belonging and a connection with other families across the grades. From serving on the board of directors to driving for field trips, our community relies on a "barn-raising" spirit to stretch tuition dollars and foster real involvement and strong community bonds.
A parent group committed to advancing diversity and equity within our school community meets monthly to exchange ideas about modeling inclusion and volunteerism for our children. We also gather to promote social justice causes in our Berkeley neighborhood and beyond. We have found that the best way to teach young people the responsibility of citizenship is to participate in it ourselves.
Our events always include kid participation in meaningful service.
Community Partnerships
We are grateful to partner with Building Opportunities for Self-Sufficiency (BOSS), an organization dedicated to helping homeless, poor, and disabled people achieve health and independence, and to fighting against the root causes of poverty and homelessness.
We organize a holiday gift drive for children living at Harrison House, a nearby long-term family shelter. We help decorate the shelter for the holidays, and provide Valentine's Day and Mother's Day gifts for the women living there. Our Nourish You lunch program leftovers are often brought here (or to an Oakland encampment).
We have enjoyed a long-term partnership with the Multicultural Institute, opening up our classrooms for after-school academic tutoring for the children of migrant workers through their Mentoring for Academic Success (MAS) program. We also organize a Thanksgiving food drive for MAS program families and a holiday gift drive for the children.
Help Out with School Events
Model your commitment to inclusion and social justice by participating in community service activities as a family
Coordinate a game or run an activity booth at the Halloween Festival, Lunar New Year Festival, Art Exhibit Opening, or Games Day
Lend a hand at much-beloved annual events like the Back-to-School Picnic, Walkathon, or Generations Day
Assist with grade-level projects and celebrations in the classroom
Chaperone upper school dances or attend upper school sports matches
Share your subject matter expertise as a classroom guest (we have many talented scientists, artists, and professors among our parent body)
Chaperone a field trip to The Marine Mammal Center or the Asian Art Museum
Take on a significant or supporting role organizing the Spring Soirée or Auction. With great systems in place, many hands make light work.
Represent your class in Parent Circle, getting the inside scoop and coordinating parent volunteering
Organize social activities for your grade, a parent night out, or the annual camping trip
Be an Ambassador for Our School
Welcome prospective families at admissions events
Share the BPC experience with your former preschool or at community events like Oakland Pride or Solano Stroll
Make friendly calls to interested families in the January phonathon